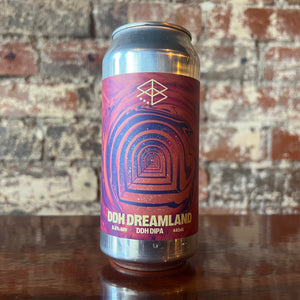 Range DDH Dreamland DDH DIPA
Sale price

$17.50

Regular price
Tax included.
If you cast your mind back to March 2022 you may remember we released a DIPA called Dreamland. This beer changed the game for Range and forever changed our house process for brewing DIPA. We decided to bring our beloved Dreamland back from the dead and also hit it with our signature DDH treatment to deliver one of our absolute favourite beers that we've released this year. It's back in a BIG way. 
DDH Dreamland is a Double IPA that we have double dry-hopped with insane amounts of Citra Cryo, Citra, Mosaic, and Nectaron. Pouring a bright milky haze into the glass with a fluffy white dome on top. Leaping straight out of the foam are aromas of succulent stone fruit, oozing citrus, and pulpy passionfruit. Saturating your senses like a psychedelic trip, each sip takes you layers and layers deeper into the joosey realm that is Dreamland. A late tinge of light bitterness snaps you back to reality, ready for another sip. Grab a can and take a ride into your very own Dreamland
ABV: 8.8%
Hops:Citra Cryo, Citra, Mosaic (US), Nectaron (NZ)
Allergens: Gluten, Barley, Wheat, Lactose
Vegan: No
0 available.
ABV 8.8%/440mlml
Adding product to your cart
Use left/right arrows to navigate the slideshow or swipe left/right if using a mobile device