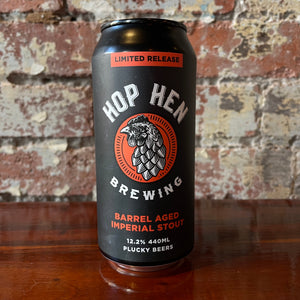 Hop Hen Barrel Aged Imperial Stout
Sale price

$15.00

Regular price
Tax included.
In a time of nostrils getting attacked by cotton swabs, muffled voices in masks, toilet paper shortages, and lockdowns. We all need something a little stronger, a little darker and aged to perfection.
So, what a perfect time to release our Barrel Aged Imperial Stout to the masses.
This little number was lying dormant for one year in single malt whisky barrels awaiting it's time to resurface a wreak havoc on your taste buds.
On first glance you will notice the deep, dark shades of black that would be reminiscent of a possessed dolls eyes ready to pounce, then allowing the aroma to drift into your senses like an eery fog delivering notes of burnt caramel, dark fruits, whisky resin and crème brulee.
Once this wicked creature gets invited into your mouth your tongue will get strangled with hints of toasted marshmallow, dried raisins, dark chocolate, and freshly roasted coffee. It finishes with a smooth lingering sweetness and a warm and fuzzy feeling.
You will be left howling at the moon for more.
0 available.
ABV 12.2% / 440mlml
Adding product to your cart
Use left/right arrows to navigate the slideshow or swipe left/right if using a mobile device