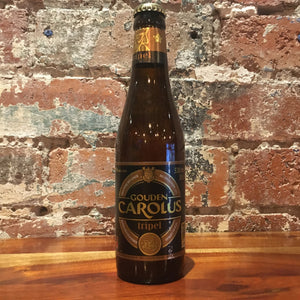 Het Anker Gouden Carolus Tripel
Sale price

$10.50

Regular price
Tax included.
Despite the technological advances, this beer is brewed according to ancient tradition and unites, as before, the best raw materials from our soil as ripe barley and fine hops, to preserve a maximum of pure flavor. This beer was originally brewed for the Knights of the Golden Fleece in 1491. 
Full graceful tenderness, with a clean and neat taste, this beer will enchant you: matured in the bottle, exclusively obtained from pale malt, highly fermented and 100% natural. With a full-bodied flavor that still works thirst quenching, thanks to a balanced hopping. For ideal savouring, gently pour out in one fluent movement, at a temperature of 5-7° C (41-45°F). This pleasant golden blond beer is preferred by all who loves heavier, somewhat seasoned and refreshing beer.
This tripel is world-class. 
Already in 2002 this beer won the Gold Award at the biennial World Beer Cup in the category 'Tripel'. In 2010 this beer won gold at the European Beer Star in the category 'Belgian Style Tripel'. In 2012, again followed the gold award for best Tripel beer in the world ("World's Best Belgian-Style Tripel").
0 available.
ABV 9.0% / 330ml
Adding product to your cart
Use left/right arrows to navigate the slideshow or swipe left/right if using a mobile device