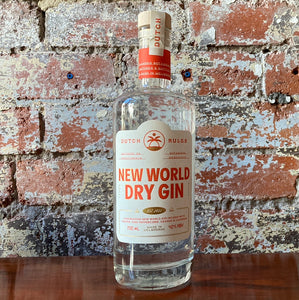 Dutch Rules New World Dry Gin 700ml
Sale price

$75.00

Regular price
Tax included.
Dutch Rules New World Dry Gin is a testament to the Dutch gin-making tradition, renowned for its exceptional quality and precision. This gin stands out with its innovative blend of botanicals that create a flavor profile that's both familiar and excitingly new.
Crafted with a base of carefully selected juniper berries, this gin embraces the piney and citrusy notes that gin enthusiasts adore. What sets it apart is the infusion of contemporary botanicals, which includes exotic spices and herbs, resulting in a complex and harmonious gin experience.
The 700ml bottle is not just a spirit; it's a celebration of Dutch ingenuity and artistry. Each sip takes you on a journey through the rich history of Dutch gin-making, while also pushing the boundaries of what a gin can be in the modern age.
Whether sipped neat, on the rocks, or as the star of your favorite cocktails, Dutch Rules New World Dry Gin is a versatile companion for any occasion. Elevate your gin game with this exceptional Dutch creation.
5 available.
ABV 42% / 700ml
Adding product to your cart
Use left/right arrows to navigate the slideshow or swipe left/right if using a mobile device