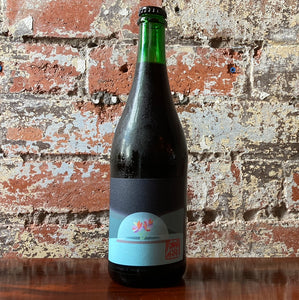 Konpira Maru Class M Planet 2021 (Non-Alc)
Sale price

$20.00

Regular price
Tax included.
Our first foray into non-alcoholic wine, well technically it is in the <0.5% category, but is actually just shy of 0.1% abv. Confused yet? I am. Why did we make it? We really wanted to make a wine for those who aren't imbibing the hard stuff that has provenance just like our normal range. We didn't want to make a concoction that mimics wine, we wanted to make a wine. To do this we took some yum Dolcetto from the King Valley and removed the alcohol via the process of pervaperation. A technology new to Australia and one that is one of the best for retaining everything but the alcohol. So this isn't a faux wine, it is a de-alcoholized, fully fermented wine! How do you make the term de-alcoholized sexy? I don't think you can. In fact it is hard enough to pronounce let alone sexualise it to be honest. 
Site: Carson Vineyard. North East Victoria.
Production: The grapes were de-stemmed and only very lightly crushed. We then cold soaked the fruit for 5 days prior to ferment. Wild ferment then took place with daily pump overs in stainless steel tanks. Pressed after two weeks just prior to ferment finishing. The wine was then racked and stored in stainless steel for 12 months before being shipped out to undergo pervaporation to remove the ethanol. Once back in the winery we made small additions of in-house pepper and natural plum tinctures. 
Tasting notes: This should be treated like one of our chilled red releases. Its all about freshness and bright aromatics. Plums and strawberry gum aromatics. Given the ethanol removal the palate is light on its feet and fresh as a daisy with refreshing acidity and chalky tannin. Best served chilled with a bowl of spaghetti alla puttanesca with a light dusting of young pecorino.
11 available.
ABV <0.5%/750mlml
Adding product to your cart
Use left/right arrows to navigate the slideshow or swipe left/right if using a mobile device